Any unwanted and excessive sound that affects human health, wildlife, or the environment is referred to as noise pollution. Noise pollution can be transport noise, vehicle noise, industrial noise, construction site noise, neighborhood noise, or any loud activity in a surrounding area. Read More…
Noise Reduction
The goal of noise reduction is to eliminate the amount of noise pollution in a given area.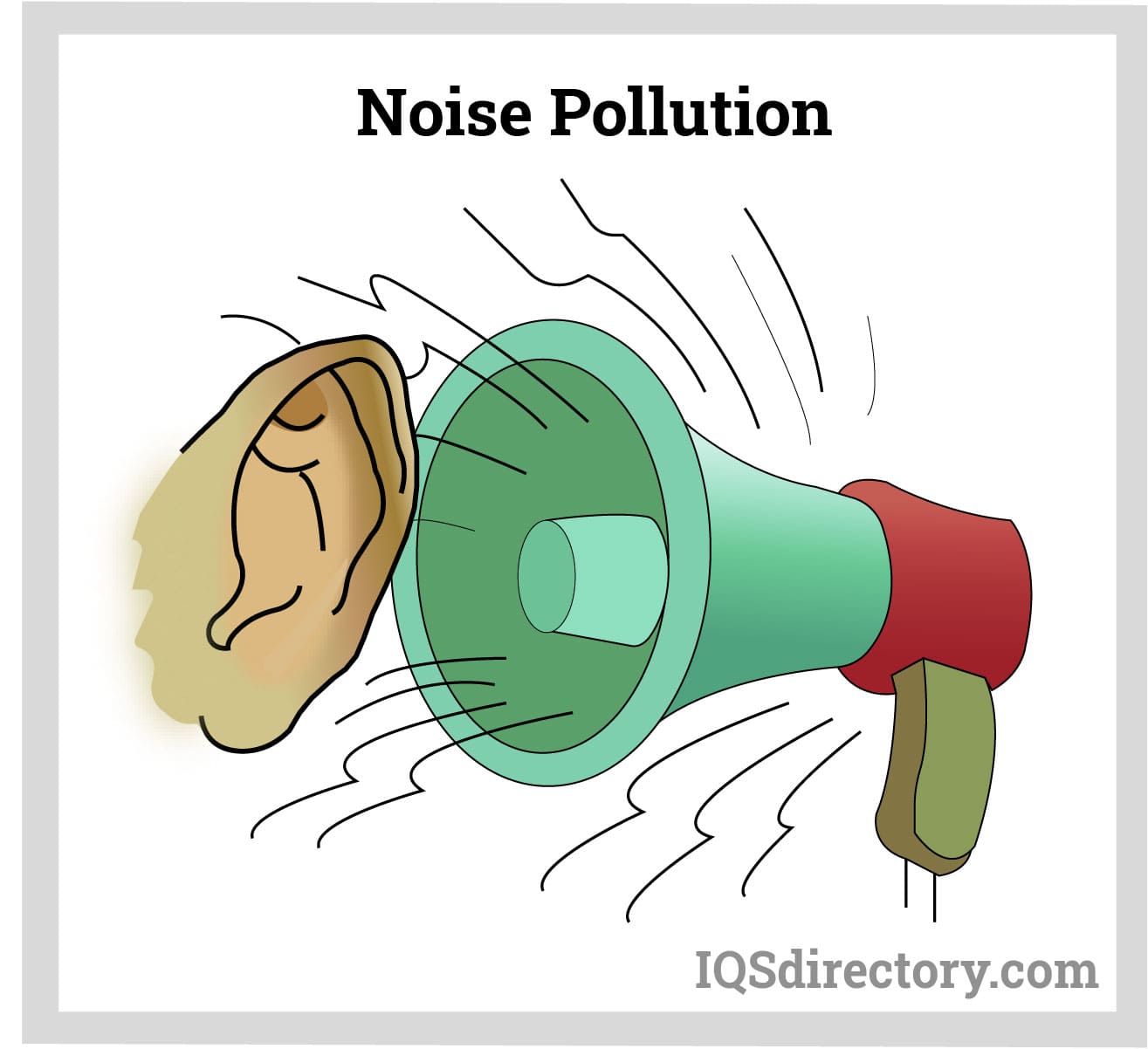 Causes and Sources of Noise Pollution
There are two sources of noise pollution: natural and man-made.
Volcanic eruptions, lightning, and ocean waves are examples of noise pollution caused by natural sources.
Industrialization, vehicle honking, construction sites, household appliances, events, and loudspeakers are potential sources of man-made noise pollution.
Effects of Noise Pollution
Not only is human health affected by noise pollution, but it also creates a disturbance for animals and birds. Hypertension, frustration, anger issues, hearing issues, disturbed mental health, sleep disorders, cardiovascular diseases, and many more are caused by noise pollution. Therefore, it is essential to minimize noise pollution in our surroundings to have a peaceful mind and life.
Noise Reduction
The method of removing or somehow reducing the noise level coming from the source is called noise reduction. Our industrial areas work with lots of heavy machinery, which results in a huge amount of noise pollution. This noise affects the surrounding environment and is harmful to the workers working in the vicinity. There are many methods for noise reduction. Some of them are discussed below.
Methods for Noise Reduction
Proper installation, management, and cleaning keep the machinery working smoothly.
To put the system in a container with acoustic barriers.
Damping is the method to reduce vibrations produced by noise in applications such as hoppers, panels, tanks, and chutes.
The damping method has two techniques: layer damping and constrained layer damping. Bitumastic damping material is stuck to the surface in layer damping, and in the latter, there is a laminate construction.
Airborne noise pollution can be handled by fitting foam or fiberglass in the ducts that penetrate the walls.
Placing exhaust and fans in the right place also helps in reducing noise pollution.
Fitting silencers on the exhausts and using pneumatic nozzles for drying and blowing can also help.
Using quiet electric motors and quieter timing belts can also help in noise reduction.
Products Used for Noise Reduction
Many different types of noise reduction products are available in markets, and these are made of special materials such as cellulose, polypropylene, vinyl, and composite.
Acoustic Barriers
These are high-performance barriers used to control industrial noise pollution.
These are easy to install, durable, heat resistant, lightweight, and with one or two absorbent sides.
Acoustic barriers are used in transport, sports facilities, utilities, and the mechanical parts industry.
These barriers are galvanized with powder coating, vinyl coating, mild steel, or aluminum.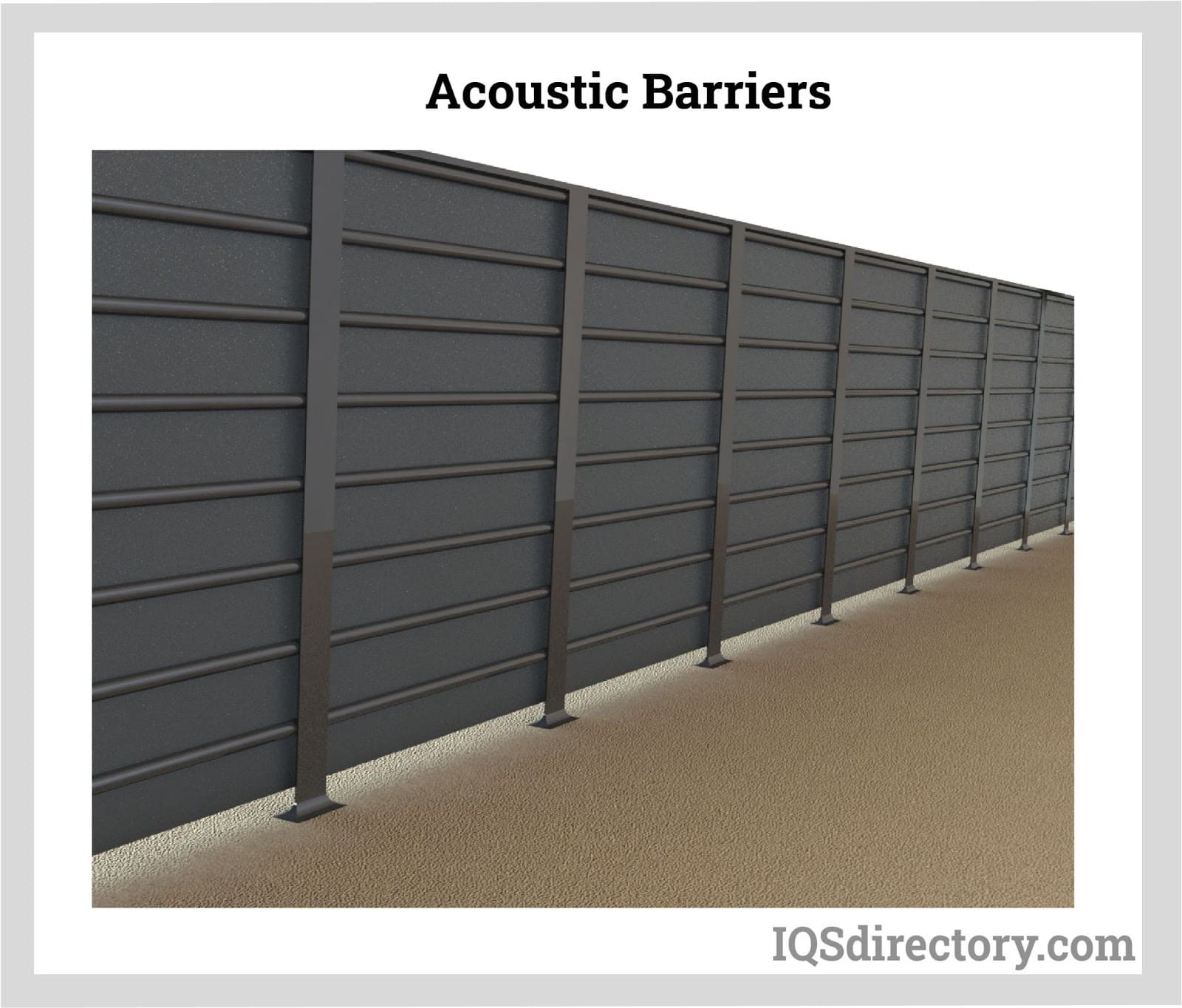 Acoustic Enclosures
Acoustic enclosures are metal containers that are formed outside the machinery.
These enclosures reduce noise and help in smooth working.
Acoustic enclosures have an air inlet drive for combustion and also have acoustic windows, doors, panels, and ventilators.
These enclosures can be used for indoor and outdoor units.
The finishing of these enclosures is of aluminum, steel, galvanized steel, and syntha pulvin.
These are used for test cells, personal space enclosures, compressor enclosures, and soundproof control rooms.
Acoustic Canopies
Acoustic canopies are designed to be lowered down on the machinery.
These are used in applications where the system requires proper ventilation.
These can be used for indoor as well as outdoor units.
These are commonly used for gas and diesel turbines, generators, compressors, etc.
Acoustic Foams
Acoustic foams are installed on ceilings, doors, and windows for soundproofing.
These are easy to install and durable.
These are used in gymnasiums, theaters, schools, offices, and auditoriums.
Ceiling Baffles
Ceiling baffles are devices that reduce the resonance and echo of sound in buildings, theaters, auditoriums, gymnasiums, and speech rooms.
These are devices that are hung down the ceilings.
These baffles are easy to install, durable and cost-effective.
Its construction material is fiberglass and has sharp edges.
Ceiling baffles can be customized in any size and shape.
Varitone Sound Absorption System
Varitone is an efficient noise-reducing rectangular product.
It can be attached to the walls or hung down the ceilings.
It is easy to install and helps in improving the audio in the area.
It is scratch and tamper-resistant and can also be washed.
Soundproof Doors and Windows
Soundproof doors and windows can be installed in a variety of environments.
These are cost-effective and efficient in reducing noise.
These doors and windows can be customized in any color and size.
The finishing can be aluminum or bronze.
These are shock-resistant and durable.
These are used in the military, music rooms, or conference rooms.
Soundproof Curtains and Blankets
Soundproof curtains and blankets are used for indoor and outdoor units.
The outer core is made of fiberglass, and the inner core is aluminum or polyester fabric.
These can be installed anywhere and are durable.
These are fire and weather-resistant, easy to install, and lightweight.
Sound curtains and blankets are reusable as indoor and outdoor fencing.
Choosing the Right Noise Reduction Company
To ensure the most positive outcome when selecting a noise reduction company, it is important to compare several noise reduction companies using our directory of noise reduction businesses. Each noise reduction company has a business profile page highlighting their areas of experience and capabilities, along with a contact form to directly communicate with the business for more information or request a quote. Review each noise reduction company website using our proprietary website previewer to quickly learn what each business specializes in. Then, use our simple RFQ form to communicate with multiple noise reduction companies with the same form.
Noise Reduction Informational Video